Wisdom Teeth Removal Culver City CA
Why Remove your Wisdom teeth in Culver City CA?

Wisdom teeth are the molars that grow in or, "erupt", behind all your other molars. Wisdom teeth are a normal part of human development, they're meant to help you chew and grind food well into your old age. Because of advances in modern dentistry and orthodontics, wisdom teeth are not necessary to have. Your normal adult teeth are sufficient to help you chew food and maintain a healthy bone structure. With regular dental visits and the restorative techniques available to us, you natural teeth will last you a lifetime.
Many people elect to have their wisdom teeth removed for a number of reasons. The primary reason being that there is not enough room in the patient's mouth to facilitate both wisdom teeth and regular adult teeth. When there isn't enough room in a patient's mouth, the wisdom teeth can become impacted and they can "crowd out" the other teeth. This causes irregularities in the bite, misalignment of teeth, and can even cause pain and swelling. For these reasons, many patients choose to have their teeth removed. Dr. Konviser can evaluate your particular condition to see if a dental extraction can be right for you.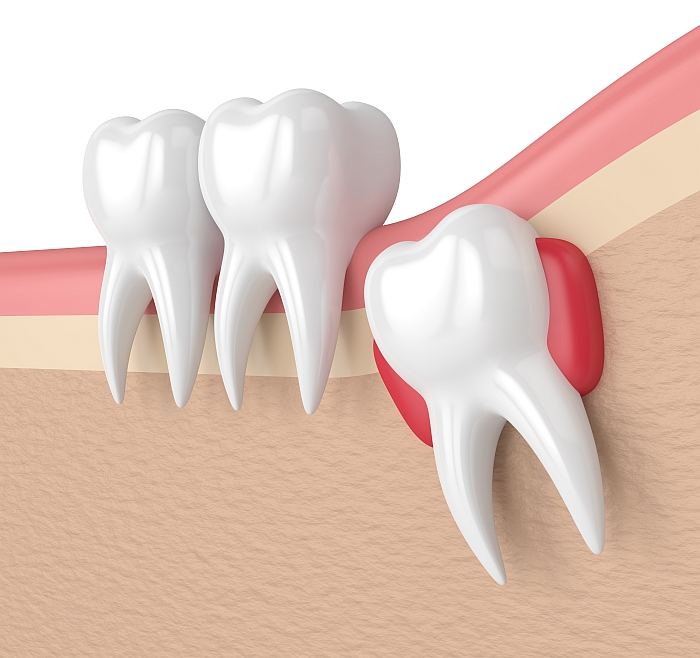 Procedure

Depending on the stage of growth that your wisdom teeth are in, Dr. Vadim may be able to extract your wisdom teeth. If the doctor cannot extract your teeth, he will refer to you an oral and maxillofacial surgeon who can.
The procedure can be performed in Dr. Konviser's office. First, he will give you an anaesthetic to numb your mouth, especially the nerves and muscles near the back of your mouth. Next, he will make an incision on the gums around the molar. This will allow him to access the wisdom tooth. Depending on your condition, he may need to cut the tooth into sections to properly remove it. Once the tooth is removed, he will stitch the incision together.
Aftercare may require antibiotics and pain medication. Dr. Konviser will explain this to you beforehand and make sure that you understand what is entailed in the healing process. After about a week, you will come back to the office to have your stitches removed!
COST

The cost of wisdom teeth varies upon a number of factors. Your doctor will have to consider the condition of your teeth, whether or not they are impacted, how mature they are, etc. Depending on your insurance provider, wisdom teeth removal may be covered fully or partially. Dr. Konviser's staff will aid you in understanding how much is covered and the billing process. For a comprehensive invoice, schedule a consultation with Dr. Konviser.
Monday – Friday: 9:00am – 6:00pm | Saturday: 9:00am – 3:00pm | Sunday: Closed | 24/7 Emergency Service available
After your first visit, you'll appreciate why Dr Konviser is highly regarded by many of his patients.
Ocean Breeze Dental provides premier care for it's patients in Marina Del Rey. Dr. Konviser treats every patient with the utmost care, as if they were a member of his own family.
Address : 4644 Lincoln Blvd. #404 Marina Del Rey, CA 90292
2nd Location Address : 5495 Sepulveda Blvd suite F Culver City, CA 90230
Tel : (310) 578-2500
Email : info@mydentistmarinadelrey.com