Teeth Whitening Culver City CA
Teeth Whitening Culver City CA
Why should I get my teeth whitened in Culver City CA?

Did you know that teeth whitening can be beneficial for your overall health? It promotes a healthy smile and boosts confidence. A bright smile has been known to increase overall happiness. Who doesn't like feeling good? When you feel your best people notice it!
What causes of discoloration?
As we age the tooth's outer enamel layer may deteriorate and teeth become susceptible to stains.
Staining from coffee, soda, tea, naturally darken teeth over time
Medication such as tetracycline can discolor teeth.
Trauma can weaken and expose underlying dentin which is yellowish
Procedures such as root canals can make teeth appear darker than normal.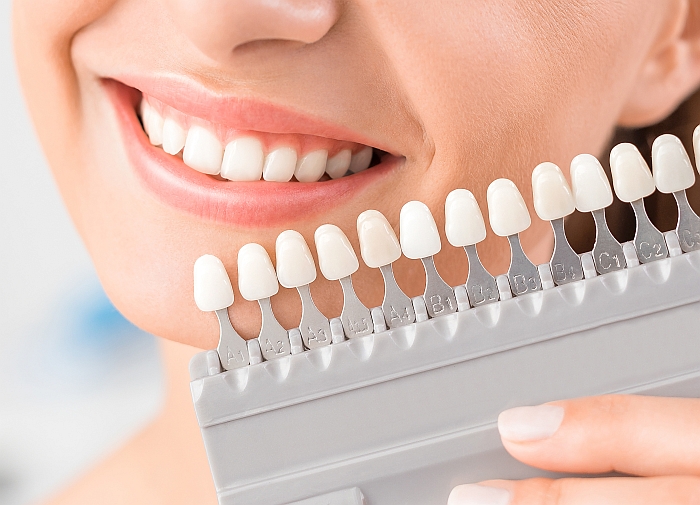 How does teeth whitening work?

There are many ways to whiten your teeth but the preferred method is in-office-treatment. An in-office treatment allows the doctor to utilize strong whitening agents. Zoom Whitening system is one one of the most effective in-office treatments that dentists use. With the Zoom system, Dr. Konviser will add a whitening agent to your teeth. This is a bleaching agent that releases oxygen deep into your teeth to remove stains and change the natural pigmentation of your teeth. He will also add a protective coating to your gums to prevent them from being exposed to the agent. Lastly, the doctor will use a special laser that activates the bleaching agent. A typical zoom whitening treatment takes about 30 to 60 minutes. In some cases, multiple visits to the office may be necessary. You can expect these treatments to have the best results possible.
The alternative to an in-office treatment is a take home whitening kit. This is not the typical whitening kit you can find at your grocery store. It is more effective than most generic whitening kits, and with Dr. Konviser's supervision, you can expect very good results. The first step in this treatment is creating dental impressions of your teeth. Your impressions will be sent to a lab where they will be turned into trays that fit your teeth. The doctor will choose a bleaching agent best for you and prescribe a regimen, usually once a night for a week. Dr. Konviser has seen great results with this system, and it is usually more affordable than an in-office treatment.
How long do results last?

The results from whitening normally last for 12 to 18 months depending on your daily routine and diet. Dr. Konviser will teach you the best methods to make your white and bright smile last as long as possible. Additionally, you can schedule a whitening regimen to your keep your smile bright for years to come!
Is teeth whitening for everyone?
No, that's why it's very important to consult our professional team Ocean Breeze to find out the best way to whitening your teeth. If you are not a good candidate for teeth whitening, Dr. Konviser will discuss your options with you. Your teeth may not respond to regular whitening treatments, but they may respond to an internal tooth bleaching. In some cases, veneers may be your best option. The best way to find out is with a consultation! Call us at 310-578-2500 or email us through the contact form to schedule a consultation.
Monday – Friday: 9:00am – 6:00pm | Saturday: 9:00am – 3:00pm | Sunday: Closed | 24/7 Emergency Service available
After your first visit, you'll appreciate why Dr Konviser is highly regarded by many of his patients.
Ocean Breeze Dental provides premier care for it's patients in Marina Del Rey. Dr. Konviser treats every patient with the utmost care, as if they were a member of his own family.
Address : 4644 Lincoln Blvd. #404 Marina Del Rey, CA 90292
2nd Location Address : 5495 Sepulveda Blvd suite F Culver City, CA 90230
Tel : (310) 578-2500
Email : info@mydentistmarinadelrey.com