Dental Implants Culver City CA
Dental Implants Culver City, CA
What Are Dental Implants in Culver City?
A dental implant in Culver City CA is a metal post that is surgically implanted into the patient's jaw bone, below the gums. Dental implants serve as the foundation for new prosthetic teeth. These prosthetic are referred to as dental crowns or caps. A dental crown looks and functions exactly like a real tooth. You can learn more about crowns restorations on the dental crowns page.
A dental implant is the first step in restoring a patient's lost teeth. Dental implants are meant for patients who have lost their natural teeth, or need to replace damaged or decayed teeth. Many patients prefer implants over dentures because they are a permanent restoration. Dentures are meant to be worn during the day, then removed at night. Because dental implants are anchored and fused to your jawbone, they are incredibly stable and resilient. With proper hygiene and regular visits, implants can last a lifetime.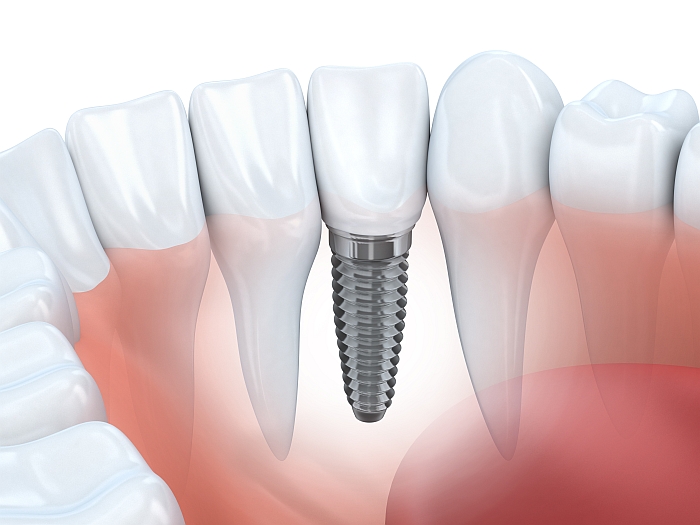 WHAT ARE THE BENEFITS OF DENTAL IMPLANTS?
Replace one or more teeth without affecting neighboring teeth. Can support a bridge, effectively replacing multiple teeth.Provide support for a denture, making it more secure and comfortable.Improved ability to chew and speak. Prevent wear and damage otherwise prone to from compensated bite.
Are Dental Implants right for me?

Patients who are eligible for dental implants must be in good health. Their gums should be healthy and they must have enough bone mass in their jaw to be a candidate. If you have a condition such as periodontitis or osteoperosis, Dr. Konviser may advise you see a specialist first or provide you with alternative restoration options. Dr. Konviser will help you make the best decision based on your condition and your oral health goals.
Procedure
Implant procedures are usually a two-step process which require multiple visits to the office.
On your first visit, the doctor will either give you a local anaesthetic or a sedative. You will discuss beforehand which is right for you. Once the anaesthetic takes effect, the doctor will make an incision in your gum line where the implant will go. Next, he will drill a hole through the incision and place the implant. Lastly, the doctor will stitch the incision around the implant. Before your next step, you will need to heal. The doctor will advise you on how best to promote the healing process and prevent infection. You'll have to return to the office after a week to have your stitches removed. Before you can complete your restoration treatment, you will need to allow time for the implant to properly fuse to your jawbone.
During the last step of the procedure the doctor will give you a painkiller again. He will make a small incision to remove a screw from the implant. He will replace the screw with a collar that allows the gums to properly heal around the implant. This is the last step in required for dental implants! After your gums have properly healed, you can expect to receive your dental crowns!
In addition to providing dental implants, we also provide mini dental implants!
What are mini dental implants (MDIs)?
MDIs are very similar to normal dental implants. It is important to note that if you were not a candidate for dental implants because you didn't have sufficient bone mass, MDIs may be a good alternative for you. Mini dental implants are also great for patients who need a less invasive surgery. The typical time to receive a mini dental implant is 1-2 hours and can the procedure can be performed solely with a local anaesthetic.
An MDI does differ in structure when compared to a regular dental implant. An MDI has a ball on one end, and a socket with a rubber O-ring that attaches the prosthetic to the post.
Benefits of mini dental implants
More affordable than regular dental implants
Can be used to secure dentures or crowns
Short recovery time
How are MDIs placed?

Placement of the implants can usually be done within a 2-hour appointment. Dr. Konviser will use a precise, minimally-invasive surgical technique, to place the MDI into the jawbone. If it is necessary for the patient to receive a bone graft, there will be extra steps.
Care and Maintenance

After your procedure, your teeth and gums may be sore. This is normal and will pass in a few days. You can begin eating food within a few hours after your surgery, however you should avoid foods that are hard or tough to eat.
Proper oral hygiene requires extra care if you are using your MDIs to support dentures. You must properly brush food and debris from your MDI when you've removed your dentures to avoid tartar from building up around your MDI. You may be given a special toothbrush designed to clean your implants and stimulate your gums. It is also recommended that your use an antiseptic mouthwash daily.
Schedule a consultation with Dr. Konviser to see if MDIs are right for you!
Monday – Friday: 9:00am – 6:00pm | Saturday: 9:00am – 3:00pm | Sunday: Closed | 24/7 Emergency Service available
After your first visit, you'll appreciate why Dr Konviser is highly regarded by many of his patients.
Ocean Breeze Dental provides premier care for it's patients in Marina Del Rey. Dr. Konviser treats every patient with the utmost care, as if they were a member of his own family.
Address : 4644 Lincoln Blvd. #404 Marina Del Rey, CA 90292
2nd Location Address : 5495 Sepulveda Blvd suite F Culver City, CA 90230
Tel : (310) 578-2500
Email : info@mydentistmarinadelrey.com