Dental Bridges Culver City CA
Dental Bridges Culver City CA
What are Dental Bridges?
A dental bridge is a dental restoration which "bridges" the gap of a missing tooth. Most dental bridges consist of 3 teeth. The 1st and 3rd teeth on the bridge are called abutment teeth. These teeth are prepped to receive dental crowns. The 2nd inner tooth is called the pontic which is a dental crown supported by the abutment crowns.
It's important to understand that dental bridges are alternatives to other restorations such as dental implants. A dental implant is a metal post, which is attached to the patient's jaw bone. Dr. Konviser will explain whether dental bridges or dental implants are right for you. In most cases, dental implants will be the right choice. There are some cases where a patient may have lost a significant amount of bone mass in their jaw, or other underlying conditions prevent implants from being an option. In these cases, Dr. Konviser will likely recommend a dental bridge.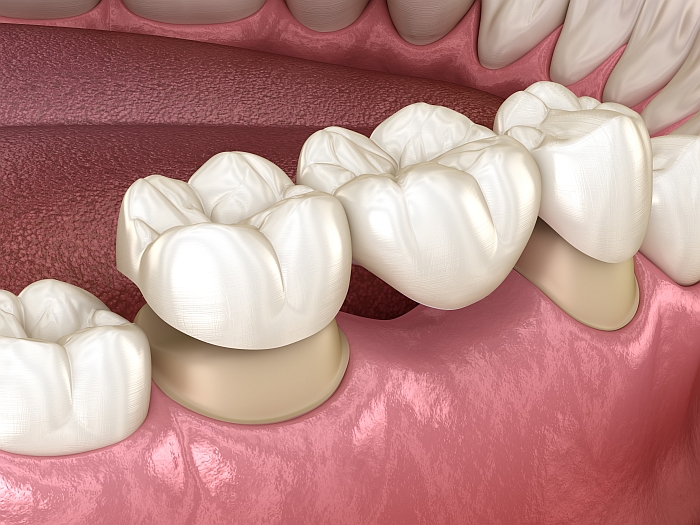 Benefits of Dental Bridges
Dental restorations have a number of benefits. Generally, all restorations provide patients with an improved ability to chew and speak. Most patients will also be happy that these restorations provide cosmetic improvements to the appearance of their smile. Restorations can even prevent other teeth from becoming worn or damaged as well as promote good oral health.
Procedure
The procedure for receiving and fixing a dental bridge will require multiple office visits. Assuming the patient has already been approved for a dental bridge restoration, the first stell will be preparing the abutment teeth. The doctor will reshape the abutment teeth so that they can act as a structural support for the crowns. Next, the doctor will get digital impressions of your teeth. These impressions will help the dental lab your own custom fit dental bridge. Before you leave, the doctor will likely give you a temporary bridge to protect your abutment teeth. On your last visit, the doctor will remove your temporary bridge and check to see if your bridge fits correctly. To finalize your restoration, the bridge will be cemented on.
Monday – Friday: 9:00am – 6:00pm | Saturday: 9:00am – 3:00pm | Sunday: Closed | 24/7 Emergency Service available
After your first visit, you'll appreciate why Dr Konviser is highly regarded by many of his patients.
Ocean Breeze Dental provides premier care for it's patients in Marina Del Rey. Dr. Konviser treats every patient with the utmost care, as if they were a member of his own family.
Address : 4644 Lincoln Blvd. #404 Marina Del Rey, CA 90292
2nd Location Address : 5495 Sepulveda Blvd suite F Culver City, CA 90230
Tel : (310) 578-2500
Email : info@mydentistmarinadelrey.com